WP Product Review WordPress Plugin More Details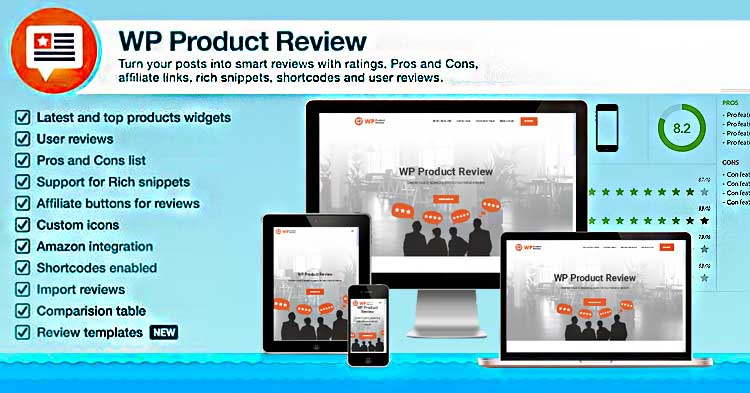 WP Product Review WordPress Plugin by Themeisle.
WP Product Review plugin helps you generate leads for your business. Simply turn your posts into smart reviews with ratings, Pros and Cons, affiliate links, rich snippets, shortcodes and user reviews.
Main features of WP Product Review WP Plugin are:
Control the position of your reviews with shortcodes
Position the review box anywhere in the post with the help of shortcodes. Add as many reviews as you want in the same page.
Customize the review table
Customize the colors, width and border of the review table to make it match your website's design. The rating icons can also be changed from hearts, to stars, to over 10 different icons
Add comparison tables
In addition to reviews, you can automatically generate comparison tables from the existing reviews.
Import Amazon product info
Save time by automatically getting the product name, image, affiliate link and price transferred from Amazon.com

*Affiliate Disclosure: This is to inform you that the pages you are visiting may contain external affiliate links that may result in us getting a commission if you decide to buy the mentioned product. This is certainly NOT a paid type of review.
WP Product Review WordPress Plugin is associated with terms like: Product Review, Rating, Ratings, Star Rating, Wp Product Review, Wp Review
*Please note that we do NOT provide any free warez clone or pirated or cracked or nulled WP Product Review WordPress Plugin free torrent WP plugin download links. You should go for a valid licensed copy of themes or plugins which costs really low and affordable. And you can also make use of their cost effective membership packages. You can get a premium membership for various theme clubs. Also, watch out for our newsletter containing many discount offers and coupons.